This web currently under reconstruction.
ANNOUNCEMENT:
It is with a great deal of sadness that I announce I have decided to continue a moratorium on breeding Westie litters. As the COVID-19 pandemic continues to carry on seemingly uncontrolled in Wisconsin and with veterinary care limited to a drop off in the parking lot and wait for a call scenario (which I could never do), I will not be breeding my girls until conditions change.
I am maintaining a list of interested potential puppy owners and will contact everyone when I begin breeding again. Until then, I will be happy to answer any questions you might have about Westies in general and OakTree Westies in particular. You have the best chance of catching me by phone on Monday, Wednesday and Friday in the afternoon or Tuesday and Thursday in the morning. Do to the large number of emails I am receiving, please resend if you do not receive a reply within a week. If you hit my junk file I might miss your inquiry.
Links etc. on this web page may not work as they should yet--I'm making the web page a priority now as I have no puppies to care for so check back for improved function.


Welcome to OakTree Westies
I am happy you have come to my website where I hope you can learn a little more about Me as A Westie breeder and my wonderful crew of West Highland White Terriers. My late husband David and I began breeding dogs in 1978 and in 1985 focused on Giant Schnauzers and West Highland White Terriers. Although all breeds have their good points, Giants and Westies have the qualities we liked best in dogs. Personality plus with stable temperaments, terrier harsh coat, no doggie odor, no seasonal shedding, and of course, impressive appearance are just some of their wonderful characteristics. Although I no longer breed Giants, my love for them continues. Surf through My pages to learn more about our past Giants and My present in Westies. Follow the link to our Westie page packed with information about the West Highland White Terrier and Westie photos also links to our AKC Champion Westie Alborada-Watch-Me-Now and to all our Westies including our last arrival from Spain, Alborada Krauss. Enjoy!
My Mission
At OakTree my mission has always been and will always be to provide the highest quality West Highland White Terrier puppies to select loving homes in a professional manner.
My Profile
My goal as a breeder is to raise healthy West Highland White Terrier puppies of excellent Westie temperament that are proper representatives of the breed. In that regard I have worked for over 25 years to be able to say that Westies born at OakTree are of excellent quality with a firm foundation of health and 'Westietude.' Just take a look at my litters pages to see the direction I am heading at OakTree.
Affiliations
American Kennel Club
Canadian Kennel Club
Where is Sarona?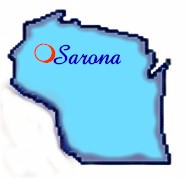 Sarona is located in Northwestern Wisconsin about 6 hours from Chicago, 2-1/2 hours from Minneapolis/St. Paul and an hour north of Eau Claire Wisconsin between Rice Lake and Spooner.
Contact Information
I make every effort to answer each and every E-mail I receive. If you have not received a reply within a week, do send a gentle reminder or call...
Telephone

715-354-3274

FAX

715-354-3274

Postal address

W3153 Church Road

Sarona, WI 54870-9204 U.S.A.

Electronic mail

General Information: oaktreewesties@centurytel.net
Webmaster: oaktreewesties@centurytel.net
Webrings to Browse